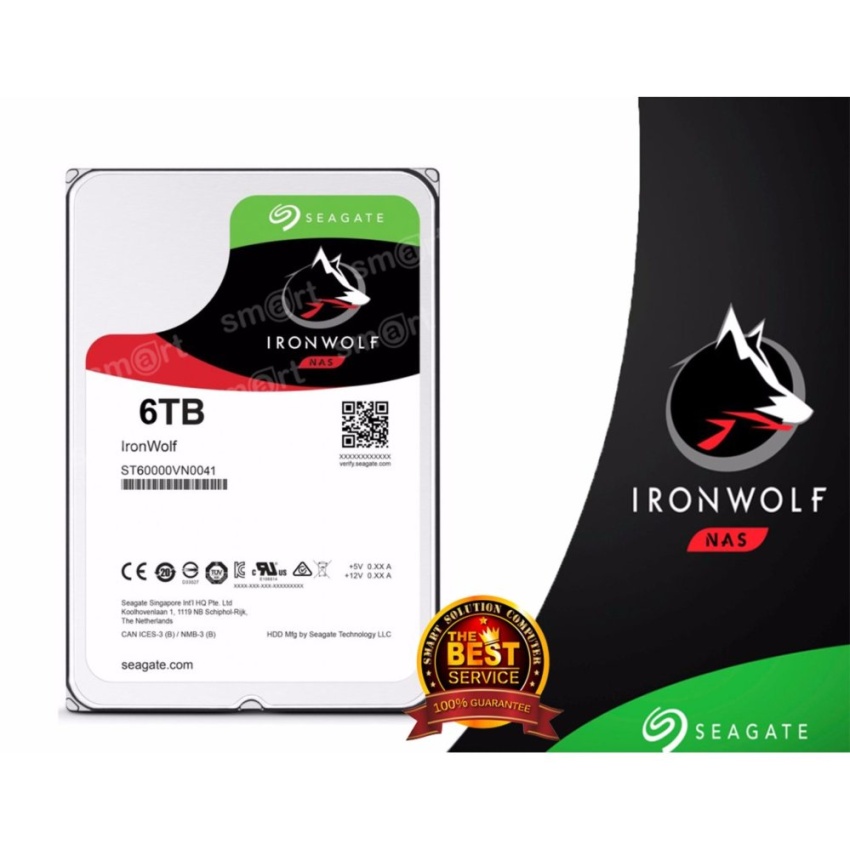 Seagate IronWolf 6TB NAS Hard Drive (ST6000VN0041)
Capacity 6.0 TB

Spin Speed 7200 RPM

Drive Size 3.5"

Interface SATA III 6Gb/s

Warranty 3 Years

การรับประกันจากตัวแทนผู้ให้บริการภายในประเทศ 3 ปี
รายละเอียดสินค้า Seagate IronWolf 6TB NAS Hard Drive(ST6000VN0041)
Seagate IronWolfฮาร์ดดิสก์ที่ถูกออกแบบมาเพื่ออุปกรณ์เก็บข้อมูลเครือข่าย NAS(Network Attached Storage) ที่รองรับการทำงานแบบ 24x7 ด้วยAgileArrayที่ออกแบบให้มีการสั่นสะเทือนน้อยกว่าเพื่อนำไปใช้งานกับอุปกรณ์เก็บข้อมูลเครือข่ายที่ต้องใส่ฮาร์ดดิสก์ได้หลายๆลูกได้อย่างดีมีเสถียรภาพในการใช้งานสูง มีความทนทานในการเขียนข้อมุลได้มากถึง180TB ต่อปี
Tough. Ready. Scalable.
For everything NAS, there's IronWolf and IronWolf Pro. Always onand always working, IronWolf is enhanced with AgileArray technologyfor optimal reliability and system agility. Multi-user technologyand extreme workload rates allow IronWolf to perform and scale upwith your enterprise.
IronWolf + the Power of AgileArray
NAS-optimised hard drive for the best-possible userexperience

IronWolf Health Management in Synology NAS1 continuously helpsto safeguard the health of your data

Drive balance with Rotational Vibration (RV) sensors managemulti-bay vibration for long-term consistent performance andreliability

RAID performance optimised that maximises responsiveness anduptime with NAS-aware Error Recovery Control

Advanced power management saves energy and delivers the rightpower at the right time
1. IronWolf Health Management Beta is only available incapacities of 4 TB and up.
Actively Protect Your NAS with IronWolf HealthManagement* in Synology DiskStations
Workload-aware monitoring providing peace of mind withnotifications

Synology DiskStation Manager 6.1 (DSM) notifications on drivehealth

Intelligent analysis provides environmental and operationalrecommendations

Automatically detects the IronWolf drive, which isDSM-compatible. No additional software or setup required
*Coming soon. IronWolf Health Management features subject tochange.
Multi-Bay and NAS-Ready With Built-In RVSensors
First in its class, IronWolf drives are equipped with RV sensorson high capacity drives to maintain performance in multi-bay NASenclosures. RV sensors on IronWolf Pro come standard, helpingbusiness and creative pros to have consistent performance for yearsto come.
Do More With Multi-User Optimisation
Do more with your NAS with multi-user optimisation. Enablinguser workloads of up to 180 TB/year on IronWolf and 300 TB/yearwith IronWolf Pro, multiple users can confidently upload anddownload data to a NAS server. Whether you're a creative pro or asmall business, IronWolf is on your side.
Be Creative Anywhere With IronWolf and YourNAS
Extensible and reliable storage helps keep you and your creativebusiness on schedule. IronWolf and IronWolf Pro are greatcompanions for your NAS for 24×7 remote access, backups and filesharing from anywhere, making sharing ideas easy. For growingagencies and the need for more storage, IronWolf and IronWolf Proare built to address NAS scalability challenges.
Grow Your Business NAS
A thriving small business needs storage that can thrive with it.IronWolf is optimised for NAS in multi-RAID environments that notonly the vibration, but also handle the high user workload rate ina high data traffic network. Enter multi-user technology — up to180 TB/yr for IronWolf, up to 300 TB/yr for IronWolf Pro.
Dominate The Media
Build your home NAS media empire with IronWolf HDDs. IronWolfand IronWolf Pro lead the class in storage capacity with drives aslarge as 10 TB, and the performance needed to run high definitioncontent with your NAS. Store thousands of full-length HD films andeven more photographs on your private server. Think of it as yourhome cloud.
Specifications
Capacity 6.0 TB

Cache 128MB

Spin Speed 7200 RPM

Drive Size 3.5"

Interface SATA III 6Gb/s

Warranty 3 Years