รายละเอียดสินค้า QNAP TS-453BT3-8G 4-Bay Thunderbolt

Featuring dual Thunderbolt™ 3 ports, coupled with M.2 SATA SSD caching and 10GBASE-T connectivity, the TS-453BT3 provides an ideal environment for professional collaborative media editing and high-speed file sharing. The TS-453BT3 features a sleek new look with an OLED panel and two capacitive touch buttons. With powerful hardware capabilities and feature-rich productivity tools, the TS-453BT3 provides the best NAS solution for media studios or small creative workgroups looking to greatly simplify their workflows.
| | | |
| --- | --- | --- |
| High-speed Thunderbolt 3 with SMB protocol, allowing Mac and Windows users to collaborate on media editing. | Dual M.2 SATA 6 Gb/s SSD allows for setting up caching or storage pool, improving file access efficiency. | 10GbE connectivity accelerates virtualization applications and file sharing across devices. |
| | | |
| --- | --- | --- |
| Qtier™ auto-tiering technology and SSD caching enable 24/7 optimized storage efficiency | 4K media playback and real-time transcoding; directly view creative works on an HDTV via HDMI output. | Qfiling automates file organization, greatly improving work efficiency. |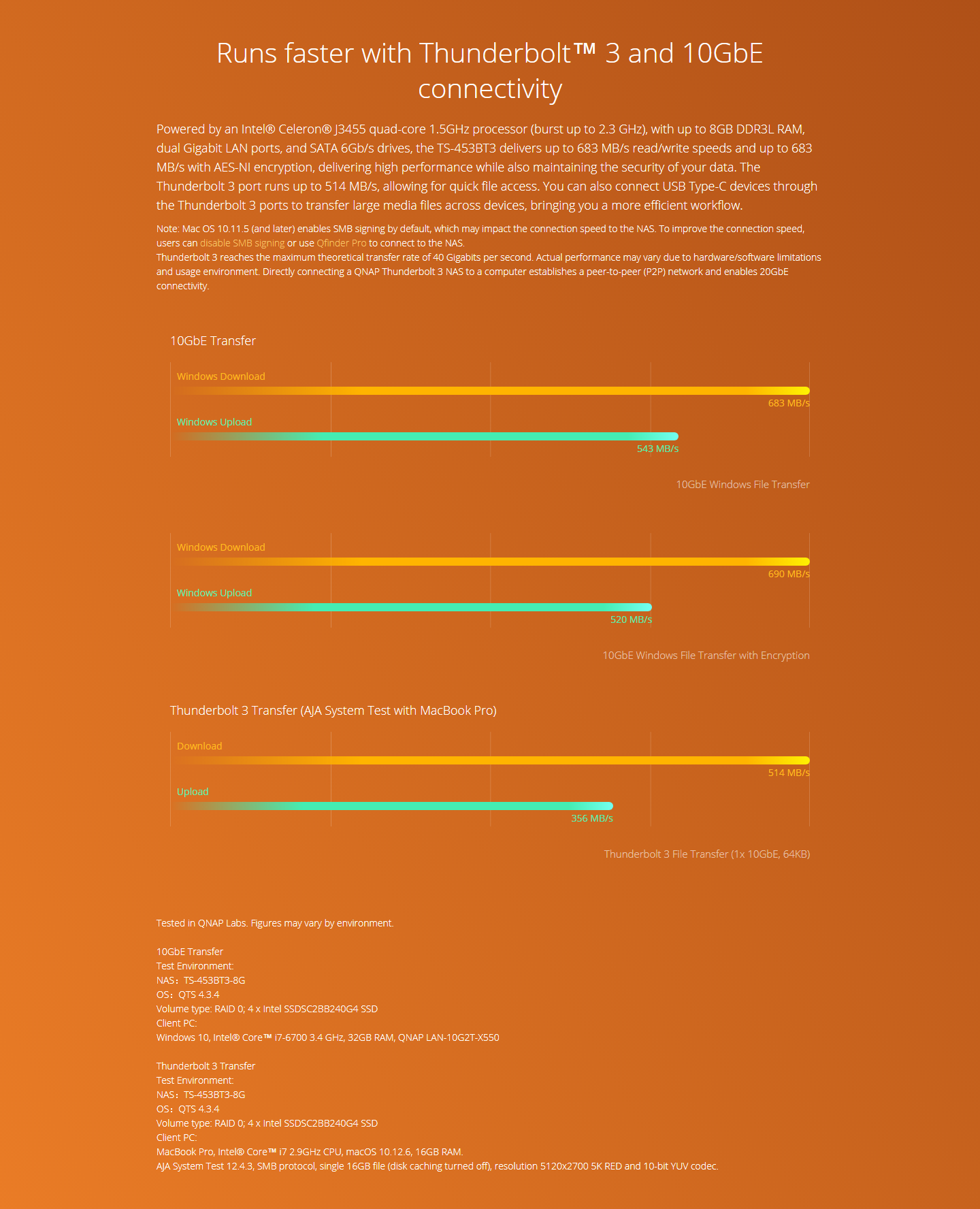 Collaboration station for Mac and Windows
TS-453BT3 is the perfect match for users with Thunderbolt 3 Mac and can also be used with Thunderbolt 2 Mac by using a suitable adapter. The increased bandwidth of Thunderbolt 3 enables smooth video editing and faster file sharing for photographers, video editors and graphic designers. Up to 2 Thunderbolt devices can be connected to the TS-453BT3 to process real-time photo and audio editing simultaneously without impacting system performance. As Final Cut Pro® X 10.3 supports file sharing via SMB, Windows users and other devices utilizing Thunderbolt™ 3, 10GbE or GbE connections can join the editing workflow more efficiently.

Note: Thunderbolt cables are sold separately. Thunderbolt 3 (USB-C) to Thunderbolt 2 converters may not be compatible with certain Windows PC models.
Note: For professional collaborative video editing, it is recommended to use TVS-x82T series NAS.

Direct access to 10GbE network from your Mac
The innovative Thunderbolt-to-Ethernet converter (T2E) allows your Mac® devices to access 10GbE networks via the TS-453BT3, providing flexible, convenient and highly-efficient data transfer without needing to buy extra adapters or converters.

Note: T2E transmission speed may be affected when using a virtual switch. QNAP aims to continue improving and optimizing T2E performance.

Greater efficiency with SSD caching and 10GbE connectivity

The pre-installed dual-port M.2 SATA SSD/10GBASE-T expansion card enables caching or Qtier auto-tiering technology to improve NAS performance without occupying disk bays of the NAS.

The 10GBASE-T port ensures that the TS-453BT3 meets 10GbE infrastructure requirements and can efficiently manage data transfers requiring high-bandwidth.
Note:
1. The included QM2 expansion card (QM2-2S10G1TB) is customized for use with the TS-453BT3 only. The M.2 SATA SSD slots on this QM2 card only support M.2 2280 SATA 6Gb/s SSD, please check the compatibilities before purchase.
2. The TS-453BT3 is also compatible with the following QM2 expansion cards: QM2-2S, QM2-2P, QM2-2S10G1T, QM2-2P10G1T.




Simple, sleek and trendy look
The TS-453BT3 features a sliding cover design with tool-less 3.5-inch hard drive installation, making it easier for you to set up and maintain. The OLED front panel displays system information (including CPU temperatures, fan speed, and storage capacities of hard drives, volumes and LUN), allowing you to quickly view overall system status. Dust-proof capacitive touch buttons allow you to easily wake up the screen, change network IP settings and host password or even restart and shut down the system.
Complete backup solution for peace of mind
QNAP provides reliable and flexible backup and disaster recovery solutions to help businesses and organizations perform daily data backup tasks for computers, VM, and other devices in a highly-efficient way.







Windows® and Mac® backup

Use the free QNAP NetBak Replicator to backup/restore data on a Windows® computer. For Mac® devices, backup tasks can be performed with Time Machine® support.

» Learn More: Data backup & Disaster recovery





Hybrid Backup Sync

With integrated data backup, restore and synchronization (using RTRR, rsync, FTP, CIFS/SMB protocols), Hybrid Backup Sync helps you easily backup or synchronize data on the TS-453BT3 to other QNAP NAS, remote servers or cloud storage.

» Learn More :  

Hybrid Backup Sync







Snapshots for volume/LUN

Snapshots help protect your data and block-level snapshots provide even faster backup and restoration, helping to mitigate the effects of malware or a ransomware attack. The TS-453BT3 supports up to 256 snapshots per volume or LUN, and maximum 1,024 snapshots per NAS.

» Learn More :  Volume & LUN Snapshots





Backup for virtual machines

The TS-453BT3 provides high potential storage capacity. With its high performance and integrated virtualization applications, support for popular third-party virtualization solutions, snapshots to record complete system VM status, the TS-453BT3 provides an ideal solution for backing up VMs.

» Learn More :  Backing up VMs to QNAP NAS,

QNAP x NAKIVO



QTS - The intelligent and intuitive NAS operating system
With multiple applications and functions, QTS enhances management efficiency, personal productivity, multimedia, and much more. The user-friendly QTS features an intelligent desktop that allows you to find desired functions quickly, monitor important system information on a real-time basis, open multiple application windows to run multiple tasks concurrently with greater working efficiency, and provides a built-in App Center with install-on-demand apps to extend NAS functionality. Empowered by intelligent agent services that simplify system operations and management, QTS breaks down barriers of devices, platforms, and geography to provide you with the optimum cloud experience.
» Learn More : QTS    ,   
App Center
File sharing and synchronization

The TS-453BT3 supports SMB, NFS and AFP, allowing you to quickly share files to Windows®, Mac®, and Linux®/UNIX® devices. With QNAP's Qsync app, the TS-453BT3 becomes a safe data center for file synchronization with huge storage potential. Any file uploaded to TS-453BT3 can be synchronized to all the linked devices such as computers, laptops and mobile devices. You can also sync shared folders to increase the flexibility of collaboration and file sharing.
» Learn More:

Cross-platform file sharing

,  

Qsync






Qsirch finds what you need
Qsirch is QNAP's full-text search engine that can quickly find desired files on your NAS. Qsirch can search through over 6,000 file formats and can use over 30 search conditions. Recommended or similar files are also displayed in the search preview page based on set keywords and conditions. Professional photographers can even search files through the camera's lens type, greatly shortening time in finding files and can spend more time concentrating on editing.
» Learn More: Qsirch
Real-time transcoding for an excellent cross-device media experience
Featuring advanced 9th-generation Intel® HD Graphics, the TS-453BT3 supports dual-channel 4K H.264/H.265* hardware decoding and real-time transcoding, allowing you to convert videos to universal file formats that can be smoothly played on multiple devices**.
*For H.265 support, it's required to download and install Codex Pack, QVR Pro or HD Player.
**The TS-453BT3's hardware provides H.264/H.265 hardware decoding, encoding and transcoding capabilities. However, playback quality may vary due to factors including playback software, file formats, system usage, and available bandwidth.


Get things done with one button
The TS-453BT3 provides a free Remote Control (RM-IR004). You can customize the actions of individual buttons of your QNAP remote control using QButton, such as viewing a preset surveillance channel in Surveillance Station, providing you with convenient control of your multimedia experience.
*The TS-453BT3 offers 4 free IP camera channels and you can expand up to 40 channels by purchasing additional licenses. Learn more
NAS as a multi-OS platform
Virtualization Station and Container Station bring comprehensive solution for virtualization environment deployment. You can count on QNAP virtualization apps to easily find a suitable solution tailored to your specific requirement.
| | |
| --- | --- |
| Virtualization Station allows you to run multiple Windows®, Linux®, UNIX® and Android™ virtual machines on TS-453BT3. You can use Virtual Network Computing (VNC) through a browser to manage the VMs. It's ideal for organizations to run multiple applications on a single NAS. | Container Station integrates LXC and Docker® lightweight virtualization technologies. You can download apps from the built-in Docker Hub® to easily import/export container apps and manage access control, enjoying the benefit of easy installation, transferability and high-efficiency. |
More productivity applications



IFTTT Agent

IFTTT allows you to freely connect your QNAP NAS with useful apps and gives you the ability to create user-defined rules/tasks.


» Learn More : IFTTT Agent




QmailAgent

Centrally manage and check multiple email accounts on one platform. You can also backup all the emails on NAS for higher confidentiality.
» Learn More: QmailAgent




Browser Station

Enables remote access through NAS browsers to access local LAN resources without going through complex VPN setting.


» Learn More: Browser Station




DJ2 Live

Live Broadcasting through QNAP NAS, while also streaming to public clouds. The footage is saved directly to the NAS for 
later playback.

» Learn More: DJ2 Live




QIoT Suite Lite

Combines the security and large capacity of QNAP NAS while providing an IoT solution on a private cloud. It only takes three steps to quickly deploy your own IoT application.

» Learn More: QIoT Suite Lite




Mobile Apps

Simplifies file access, NAS management, multimedia experience, surveillance, and download tasks on mobile devices with 
QNAP apps.

» Learn More: Mobile Apps

Easy storage expansion
You need an easy solution to increase storage capacity when running out of space. QNAP provides several ways to expand your NAS storage as needed to accommodate data or business growth.
Upgrade RAID Capacity

Hot swap lower capacity drives with larger capacity drives so that your QNAP NAS can grow with your business.

Attach Expansion Enclosure
VJBOD

Use VJBOD (Virtual JBOD) to expand your storage capacity by using the unused storage of another QNAP NAS. Up to 8 QNAP NAS can be mounted as local disks on the TS-453BT3.**




Migrate to a New NAS

Install your NAS hard drives into a larger QNAP NAS with 

more drive bays and retain all your existing data and 




Optional Accessory

QM2-2S
Dual M.2 22110/2280 SATA SSD expansion card
Dimension (L × W × H): 159.85 × 90.30 × 20.60 (mm)


LAN-10G1TA
Single-port (10Gbase-T) 10GbE network expansion card, PCIe Gen2 x4
Dimension (L × W × H): 25.00 × 16.00 × 5.00 (cm)
Weight: 1.00 (kg)


LAN-10G2SF-MLX
Dual-port 10GbE SFP+ network expansion card
Dimension (L × W × H): 260.00 × 150.00 × 58.00 (mm)
Weight: 0.42 (g)


USB-U31A2P01
USB-U31A2P01
Note: USB cabe is not included.


RAM-2GDR3LA0-SO-1866
DDR type: DDRⅢL(204 PIN)
Capacity: 2GB
Spec: 256M X 16
Manufacturer: ADATA
Frequency: DDR3-1866
Form(PIN): 204PIN
Manufacturer P/N: ADDS186622G13-BSSE
Power Supply: 1.35V
Dram Organization: 256M*64
Temperature: 0℃~85℃
Environmental Regulation: RoHS
Note: Make sure all DIMMs meet the requirements for your NAS model (the information listed in product specifications).


RAM-4GDR3LA0-SO-1866
DDR type: DDRⅢL(204 PIN)
Capacity: 4GB
Spec: MICRON P-DIE 512M X 8
Manufacturer: ADATA
Frequency: DDR3-1866
Form(PIN): 204PIN
Manufacturer P/N: ADDS1866W4G13-BMIP
Power Supply: 1.35V
Dram Organization: 512M*64
Temperature: 0℃~85℃
Environmental Regulation: RoHS
Note: Make sure all DIMMs meet the requirements for your NAS model (the information listed in product specifications).


CAB-DAC15M-SFPP-DEC02
1.5M SFP+ 10GbE DIRECT ATTACH CABLE
Note: This 10GbE SFP+ network cable is designed for NAS models with an integrated 10GbE SFP+ LAN port or a 10GbE SFP+ network card.


CAB-DAC50M-SFPP-DEC02
5.0M SFP+ 10GbE DIRECT ATTACH CABLE
Note: This 10GbE SFP+ network cable is designed for NAS models with an integrated 10GbE SFP+ LAN port or a 10GbE SFP+ network card.


CAB-TBT305M-40G-LINTES
Thunderbolt3 Passive 40Gb/s 0.5M USB Type-C cable


CAB-TBT320M-40G-LINTES
Thunderbolt3 Active 40Gb/s 2M USB Type-C cable


QXG-10G1T
Single-port (10Gbase-T) 10GbE network expansion card, PCIe Gen3 x4
Dimension (L × W × H): 18.00 × 11.00 × 5.50 (cm)
Weight: 1.00 (kg)

Specification
CPU

Processor: Intel® Celeron® J3455 quad-core 1.5 GHz, burst up to 2.3 GHz
Architecture: 64-bit
Graphics: Intel® HD Graphics 500
Encryption Engine: AES-NI

System Memory

8 GB RAM (2 x 4 GB DDR3L)

Maximum Memory

8 GB (2 x 4 GB)

Memory Slot

2 x SODIMM DDR3L

Drive Bay

4 x SATA 6 Gbps

Drive Compatibility

3.5-inch SATA hard disk drives
2.5-inch SATA hard disk drives
2.5-inch SATA solid state drives

M.2 SSD Slot

2 x M.2 2280 SATA 6 Gbp/s SSD

Note:
The M.2 SSD is not included as standard.

SSD Cache Acceleration Support

• Drive bays 1 to 4
• M.2 slots 1 to 2
• Optional: SSD using PCIe expansion slot

Hot-swappable

Yes
The following are not hot-swappable: M.2 SSDs, SSD cache drives, SSDs using PCIe expansion slots.

10 Gigabit Ethernet Port

1 x 10GBASE-T RJ-45

Gigabit Ethernet Port

2 x RJ45

PCIe Slot

1 x PCIe 2.0 x2
Note:
1. Pre-installed with a QM2 expansion card (QM2-2S10G1TB) that includes a 10GbE 10GBASE-T port and two M.2 SATA SSD slots.
2. The M.2 SATA SSD slots on this QM2 card only support M.2 2280 SATA 6Gb/s SSD, please check the compatibilities before purchase.

Thunderbolt Port

2 x Thunderbolt 3

USB Port

5 x USB 3.0 (Front: 1 x One Touch Copy; Back: 4)

HDMI Output

2 x HDMI 1.4b (up to 3840 x 2160 resolution at 30 Hz)

Audio

• 2 x 3.5 mm dynamic microphone jacks
• 1 x 3.5 mm line-out jack
• 1 x speaker
Note: You cannot use the speakers and the line-out jack simultaneously.

Display Panel

Monochrome OLED display with capacitive sensing Enter and Select buttons

USB One Touch Copy

Front: USB 3.0 Type-A

IR sensor

QNAP RM-IR004 remote control (MCE compatible)

Form Factor

Tower

Dimensions (H x W x D)

168 x 170 x 226 mm
6.61 x 6.69 x 8.90 inch

Weight

Net: 2.51kg(5.53 lbs)/ Gross: 4.05kg (8.93 lbs)

Power Supply Unit

120W, 100-240V AC, 50/60Hz

Fan

System: 1 x 12 cm

Operating Temperature & Relative Humidity

0 to 40˚C (32 to 104˚F), 5 to 95% non-condensing, wet-bulb 27˚C (80.6˚F)

Security Slot

Kensington security slot