รายละเอียดสินค้า Wacom Intuos Pro Paper Edition L w/Wacom Pro Pen 2(PTH-860/K1-CX)
Redefining the professional standard in creative pentablets
Built with high quality materials and designed to make the mostof the amazing Wacom Pro Pen 2, Wacom Intuos Pro is our finestcreative pen tablet to date. With built-in Bluetooth connectivityand a sleek new design, it's easy to set-up and looks great on yourdesk. Start creating your next stand-out project.
Live. Dare. Create.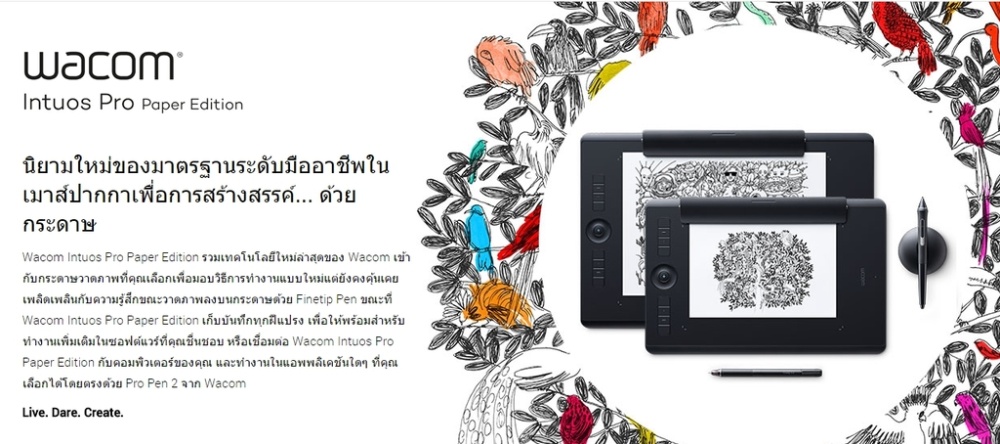 Paper-to-digital: the newest, oldest way towork
Artists, designers, illustrators – each has their own way ofworking. Some are immediately and purely digital; others love paperat the start of their workflow. Wacom Intuos Pro lets you enjoyboth.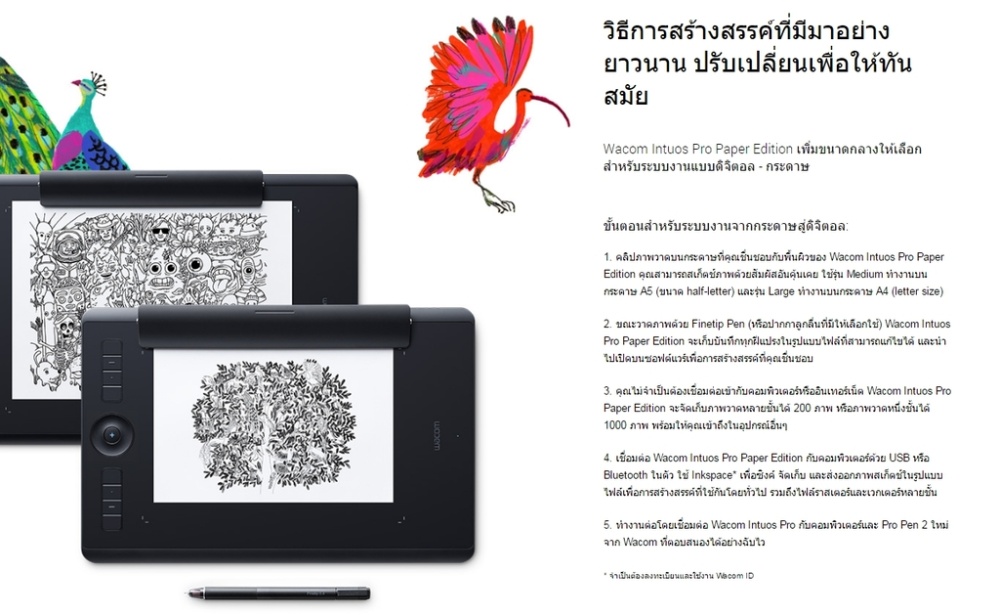 Paper to digital workflow
Wacom Intuos Pro Paper Edition lets you choose how you work. Youcan draw in ink on your preferred paper with our 0.4mm Finetip Penand capture every stroke in real time – ready to edit in yourfavorite software. You don't need to be connected to a computer orthe Internet; it'll store up to 200 sketches, ready for you to syncusing the Wacom Inkspace app.
Alternatively, connect Wacom Intuos Pro Paper Edition to yourcomputer and work digitally from start to finish with our sensitiveWacom Pro Pen 2 – just the same way as you can with Wacom IntuosPro.
Direct to digital workflow
Connect Wacom Intuos Pro to your Mac or Windows PC with USB orbuilt-in Bluetooth, install drivers, and you're ready to start workdirectly in the software of your choice. Sketch with the new WacomPro Pen 2 on the customizable drawing surface* and see yourcreations brilliantly come to life on screen.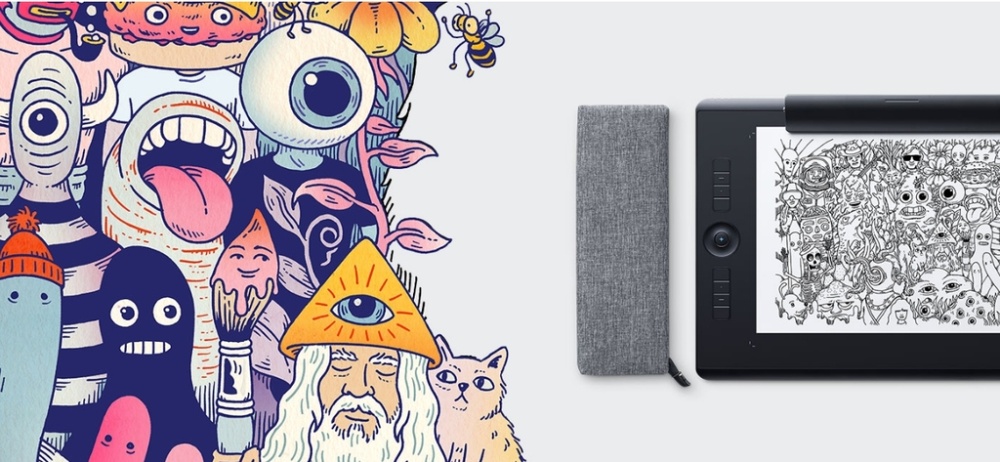 Slim and sleek design
Wacom Intuos Pro comes in both Medium and Large sizes. Each hasa smaller, more compact footprint than previous models. WacomIntuos Pro is built using premium materials such as black anodizedaluminum and fiberglass composite resin. The result is a pen tabletthat feels reassuringly strong but is a mere 8mm thick.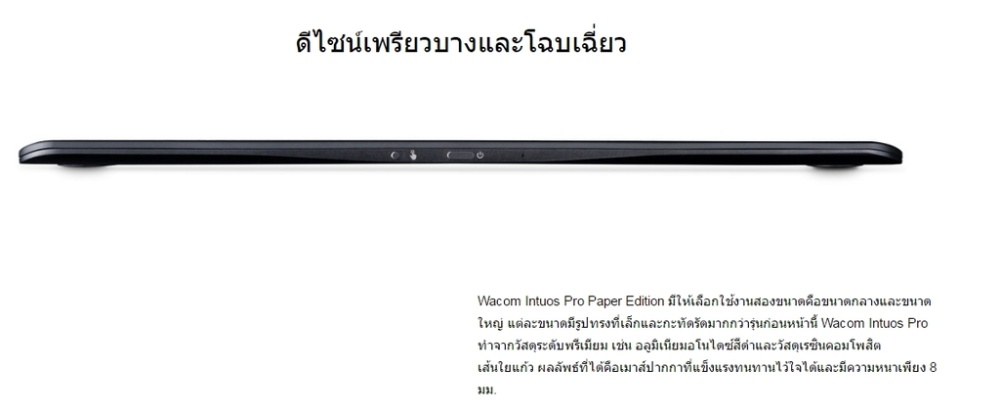 Included with every Wacom Intuos Pro, the new steel based PenStand stores your spare nibs and has a built-in tool to makereplacing them super-simple.

Wacom Intuos Pro Paper Edition comes with an Accessory Soft Casefor carrying your Paper Clip, pens, and other accessories.

Convert your paper sketches to layered raster and vectorformats
Wacom Intuos Pro Paper Edition comes with invaluable Inkspacefeatures* specifically designed for artists and designers. Theygive you total, flexible control over your work:
Export your work in layered raster or vector formats (such asPSD and SVG)

Sync your creations across multiple devices

Share your creative projects with colleagues and clients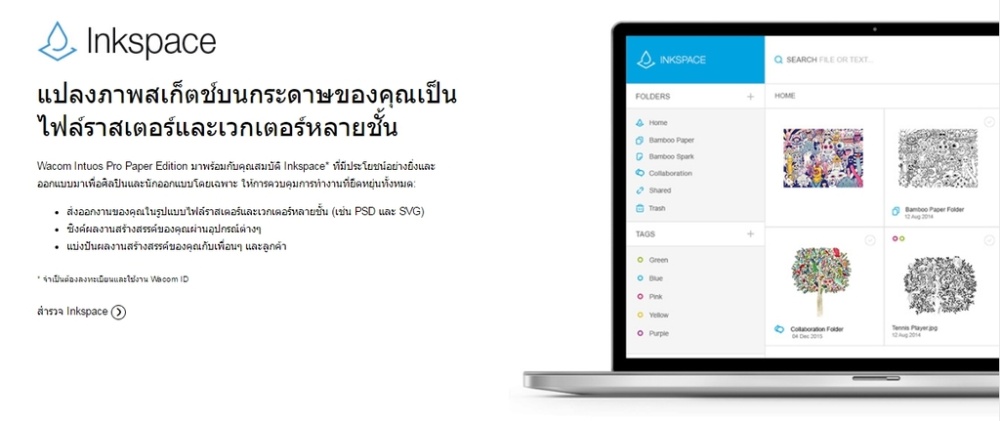 New Wacom Pro Pen 2: an extension of you
Our new Wacom Pro Pen 2 will instantly become your favoritecreative tool. With supreme levels of sensitivity and control,it'll feel like a natural extension of your hand.
Outstanding pressure
sensitivity

Natural tilt support


Virtually no lag

No batteries or recharging

Specifications
ประเภทผลิตภัณฑ์ เมาส์ปากกาสำหรับการสร้างสรรค์

Model Number ขนาดใหญ่: PTH-860P

ขนาด ขนาดใหญ่: 430 x 287 x 8 มม. / 16.8 x 11.2 x 0.3 นิ้ว

พื้นที่ส่วนทำงาน ขนาดใหญ่: 311 x 216 มม. / 12.1 x 8.4 นิ้ว

น้ำหนัก ขนาดใหญ่: 1300 ก./ 2.86 ปอนด์

มัลติทัช มี

ปากกา Pro Pen 2 จาก Wacom

ปากกา Finetip Pen

Pen Pressure ไวต่อแรงกด

Cordless Pen มี

ปากกาไร้แบตเตอรี่ มี

ระดับแรงกดของปากกา 8192 ทั้งปลายปากกาและยางลบ (ใน Pro Pen2)

การรับรู้องศาการเอียง ± 60 ระดับ

เทคโนโลยี วิธีเรโซแนนซ์แม่เหล็กไฟฟ้าที่ได้รับสิทธิบัตร

การแพน, เลื่อนจอ, ซูม, ขนาดฝีแปรง โดยเฉพาะ 5080เส้นต่อนิ้ว

ExpressKeys™ ที่ปรับแต่งได้ 8 ปุ่มเฉพาะของแอพพลิเคชัน

Touch Ring มี - ฟังก์ชันที่ปรับแต่งได้ 4 ฟังก์ชันพร้อม HomeButton สำหรับเก็บเลเยอร์ในโหมดกระดาษ

Express View Display (HUD) มี

เมนูเรเดียล มี

Display Toggle มี

Cordless Pen มี

โหมดความแม่นยำ มี

สายมาพร้อมกัน สาย USB ปลอดสาร PVC ยาว 2 ม. (6.6 ฟุต)

การเชื่อมต่อ PC และ Mac USB หรือ Bluetooth Classicสำหรับการเชื่อมต่อแบบไร้สาย

ระบบไร้สายพร้อมใช้งาน มี - Bluetooth Classic สำหรับเชื่อมต่อกับPC หรือ Mac, Bluetooth LE สำหรับเชื่อมต่อกับอุปกรณ์เคลื่อนที่(ในโหมดกระดาษที่มีให้เลือกใช้)
ความต้องการด้านระบบ
พอร์ต USB, Windows® 7 หรือรุ่นใหม่กว่า, MacOS 10.10หรือรุ่นใหม่กว่า, Bluetooth Classicสำหรับการเชื่อมต่อแบบไร้สายเข้ากับ PC หรือ Mac, Bluetooth 4.1 LEสำหรับการเชื่อมต่อแบบไร้สายเข้ากับอุปกรณ์เคลื่อนที่ (ในโหมดกระดาษ),การเชื่อมต่ออินเทอร์เน็ตเพื่อดาวน์โหลดโปรแกรมควบคุม* และซอฟต์แวร์ *ในการใช้งานผลิตภัณฑ์จำเป็นต้องดาวน์โหลดและติดตั้งโปรแกรมควบคุม